A Livable New York: The Future of Community Green Space and Affordable Housing
When:
Mon., Mar. 11, 2019 at 7:00 pm - 9:00 pm
Where:
The New School
66 W. 12th St.
212-229-5108
Price:
Free
Buy tickets/get more info now
See other events in these categories: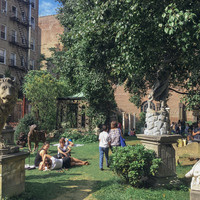 Little Italy's Elizabeth Street Garden is a community sculpture garden with over 100,000 visitors a year and year-round free public programs. Currently, the City and NYC Housing Preservation & Development (HPD) plan to destroy the garden to develop affordable housing, office space, and luxury retail, despite a proposed alternative site for the planned development. These propositions have set up a false choice between the community's needs for public green space and affordable housing, and reflect crucial issues with City planning and the livability of New York.
Join community garden representatives, activists, and scholars, as they explore access to public green space and the availability of affordable housing in a constantly changing city through the lens of Elizabeth Street Garden.
The panel will be moderated by Mia White, Assistant Professor of Environmental Studies at The New School. Introductory remarks will be provided from Joseph Reiver, Executive Director of the Elizabeth Street Garden.
Current panelists are:
Thomas Angotti, editor of Zoned Out: Race, Displacement, and City Planning in New York
Raymond Figueroa, President of the NYC Community Garden Coalition
Charles Birnbaum, President & CEO of The Cultural Landscape Foundation
Alicia Boyd, founder of MTOPP, The Movement To Protect The People, and FLAC, Flower Lovers against Corruption
Click here to submit your question for consideration to be discussed by the panel.
Presented in collaboration with McNally Jackson, Elizabeth Street Garden, the Environmental Policy & Sustainability Management (MS) Program, Environmental Studies (BA/BS) Program, and the Urban Systems Lab at The New School.
Want to learn more about events like this one? Click here to sign up for the Schools of Public Engagement's monthly events newsletter.
The Auditorium, Room A106, Alvin Johnson/J.M. Kaplan Hall
66 West 12th Street, New York, NY 10011