In the Company of Women: Inspiration and Advice From Over 100 Makers, Artists, and Entrepreneurs
When:
Wed., Oct. 5, 2016 at 7:00 pm - 8:30 pm
Where:
The New School
66 W. 12th St.
212-229-5108
Price:
$30
Buy tickets/get more info now
See other events in these categories: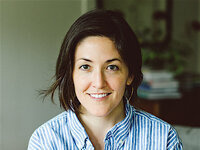 Join
Grace Bonney
to celebrate the launch of her newest book, 
In the Company of Women
. Bonney founded 
Design*Sponge
 in 2004, and it was an immediate success. She has worked tirelessly since its inception to connect and support women running creative businesses. In this book, Bonney profiles over 100 of these influential and creative women from all ages, races, backgrounds, and industries. Chock-full of practical, inspirational advice for those looking to forge their own paths, these interviews detail the keys to success and dispense advice for the next generation of women entrepreneurs and makers.
Prepare for a fabulous evening as several experts discuss their unique perspectives as enterprising and ambitious women.
66 West 12th Street, New York, NY 10011
Buy tickets/get more info now