Ana Castillo Reading
When:
Thu., Sep. 29, 2016 at 6:00 pm - 8:00 pm
Where:
The New School
66 W. 12th St.
212-229-5108
Price:
Free
Buy tickets/get more info now
See other events in these categories: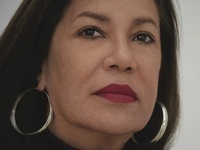 Ana Castillo is a Mexican-American Chicana novelist, poet, short story writer, essayist, editor, playwright, translator, and independent scholar. Castillo will read from her work and discuss her practice. Light refreshments will be served.
All are welcome!
This event is co-sponsored by the Literary Studies Department and Gender Studies Department at Eugene Lang College.
Wollman Hall, Eugene Lang College
65 West 11th Street Room B500, New York, NY 10003
Buy tickets/get more info now