Frank Lloyd Wright in New York City with Anthony Alofsin
When:
Tue., Feb. 21, 2023 at 7:00 pm
(This is an online program.) Join architect, artist, art historian, writer, and professor, Anthony Alofsin for a presentation on Frank Lloyd Wright and early twentieth-century New York, revealing the city's role in establishing the career of America's most famous architect.
His most recent book, Wright and New York: The Making of America's Architect (Yale University Press), was described as a "cultural drama about power and intrigue, featuring Wright's ambiguous love/hate relationship with New York City" by the Journal of the Society of Architectural Historians.
With unprecedented access to the recently opened Wright archives held by Columbia University and the Museum of Modern Art, Alofsin's foundational research provides a crucial and innovative understanding of Wright's life, his career, and the conditions that enabled his success. The result is a dazzling dual portrait of Frank Lloyd Wright and early twentieth-century Manhattan.
(More) About the Author:
Anthony Alofsin is internationally recognized as one of the world's leading authorities on the architecture of Frank Lloyd Wright and as an expert on modern architecture. He was also the consulting curator for the major retrospective Frank Lloyd Wright, Architect at the Museum of Modern Art in New York. He curated Prairie Skyscraper on Wright's Price Tower in Bartlesville, Oklahoma, and the exhibition Wright's Wasmuth Folios: Representing the Ideal, at the Ross Gallery, Columbia University.
In 2006, he received the Wright Spirit Award from the Frank Lloyd Wright Building Conservancy. The award honors an individual who, through artistic, architectural, scholarly, professional or other endeavors embodies the spirit of Frank Lloyd Wright. His pioneering study, Frank Lloyd Wright: the Lost Years, 1910-1922, is acknowledged to be one of the most important books on Wright in the last forty years; the book was a winner in the monograph category in the American Institute of Architects International Book Awards. Alofsin's other publications include the five-volume reference work, Frank Lloyd Wright: An Index to the Taliesin Correspondence, which won the Vasari Award of the Dallas Museum of Art.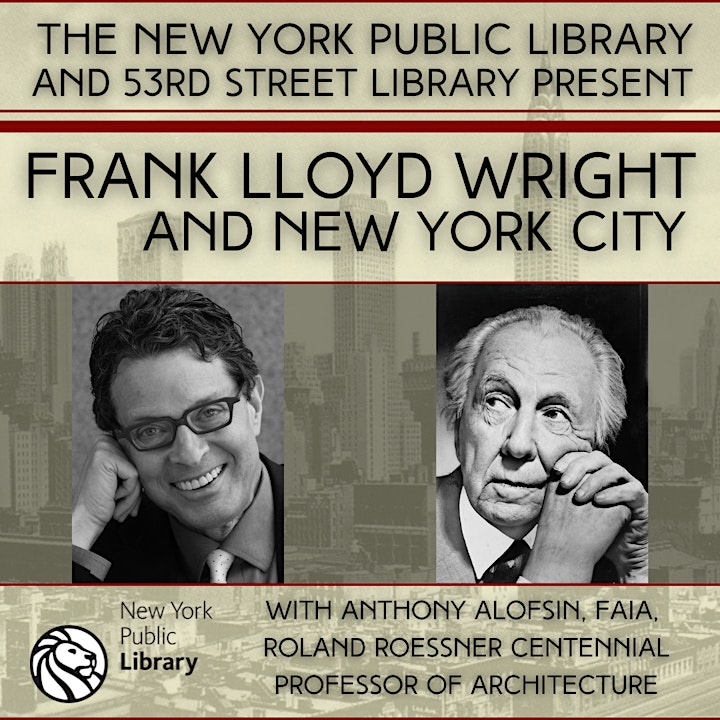 Buy tickets/get more info now